THE ARISTOCRATS来日公演延期のお知らせ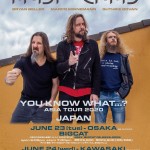 6/23(火)に大阪BIGCATと24(水)に川崎クラブチッタで開催を予定しておりましたジ・アリストクラッツ来日公演は、 新型コロナウイルス感染症による国内外の状況を考慮し、アーティスト側と協議を重ねてまいりました結果、 やむを得ず公演を延期とさせて頂くことになりました。
楽しみにされていた皆様には、大変ご迷惑をお掛けしますことをお詫び申し上げます。
現在、振替公演の日程調整を行っております。 ご購入されているチケットは、振替公演にそのまま有効とさせて頂きます。 また、振替公演に都合がつかないお客様には、追って払い戻しの対応をさせて頂きます。 振替公演の日程が決定次第、公演特設ページ、クラブチッタ,BIGCATホームページにて詳細とともに ご案内させて頂きますので、今しばらくお待ち頂けますよう御願い申し上げます。
お客様にはご迷惑をお掛け致します事を重ねてお詫び申し上げます。
【THE ARISTOCRATS 「YOU KNOW WHAT…? JAPAN TOUR 2020」公演特設ページ】
https://clubcitta.co.jp/001/thearistocrats2020-jp/
【CLUB CITTA' ホームページ】
【BIGCAT ホームページ】
上記公演に関するお問い合せ
クラブチッタ 044-246-8888
BIGCAT 06-6258-5008
————– Announcement of postponement of THE ARISTOCRATS
We regret to announce that THE ARISTOCRATS Japan Tour scheduled for June 23rd (Tue) at BIGCAT in Osaka, and June 24th (Wed) at CLUB CITTA' in Kawasaki has been unavoidably postponed following discussions with the Artist side due to the escalating situation around the Coronavirus all over the world.
We deeply apologize to all people concerned especially those customers who bought tickets and have been looking forward to the artist's shows.
Currently, we are working on rescheduling the show dates. Your tickets for the original dates that you have purchased will be valid for the rescheduled dates. For those customers who wish to receive a refund, or if the new dates will not work for you, we will announce details of the refund process once the rescheduled dates are settled. We will announce about the rescheduled dates along with the information via the special webpage of the Artist Japan tour/CLUB CITTA and BIGCAT's webpage. Your patience on this matter would be much appreciated.
Once again, we sincerely apologize for the inconvenience and disappointment caused. Thank you very much for your understandings.
【Special webpage for THE ARISTOCRATS 「YOU KNOW WHAT…? JAPAN TOUR 2020」】 https://clubcitta.co.jp/001/thearistocrats2020-jp/ 【CLUB CITTA'webpage】https://clubcitta.co.jp/ BIGCAT WEBPAGE http://bigcat-live.com For further enquires, our telephone number: 044-246-8888
CLUB CITTA'/BIGCAT/JOYFUL NOISE.CO